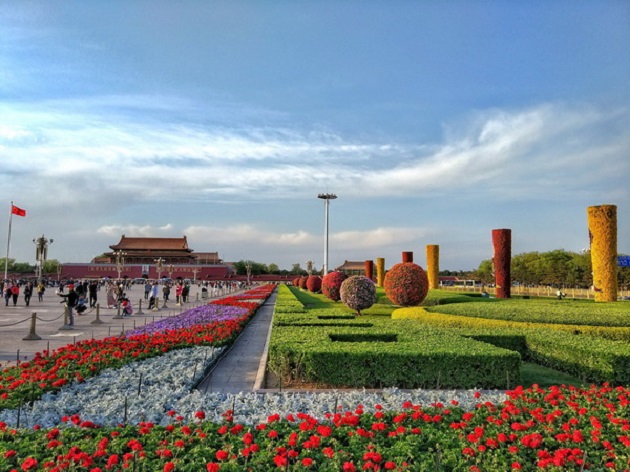 Square have been officially completed by April 23, in order to celebrate this years'International Workers'Day on May 1.
Each year, Beijing marks holiday with a series of floral arrangement around the Tian'anmen Square. As the main constructor, Beijing Urban Construction Group Co., Ltd put a great effort into such decoration. Various species of flowers are used to decorate both east and west side of square, including impatiens, Begonia semperflorens and geraniums,etc. All the massive displays stand out and give the city's warmest welcome for this important holiday.
It is worth noting that BUCG once again applied the traditional process of floral decoration. 9 bouquets, 6 styles and a total arrangement area of 3,000 square meters were incorporated into designs for this year's celebration. Each single set of floral landscape is comprised of three different bouquets, while the biggest bouquet could reach 2 meters in diameter. Meanwhile, the giant floral style displays a flaming figure that consists of red, silver and purple color, reflects the best wishes to embrace a flourishing future for the country.