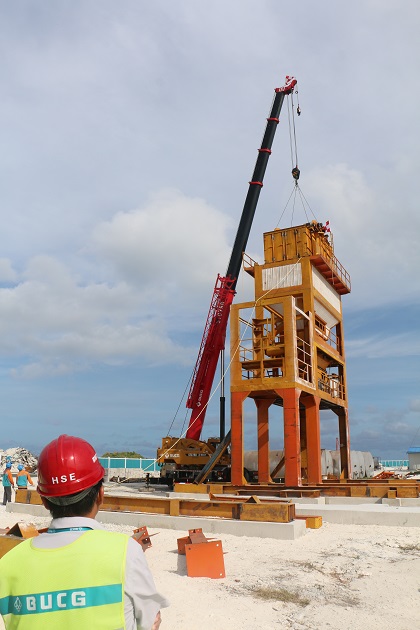 Albeit reins, 50︒C heat and rampant mosquito, INIA Project managed to overcome challenges and galloping at full speed by careful construction planning and shift arrangements. Via auto-construction technologies, construction has been kept seamless and ongoing night and day to ensure critical schedule nodes are met.
The local coral sand geotechnical condition presents the greatest challenge where its high permeability, combined with intensive sunlight, rendered optimal water content next to impossible to be maintained on the runway surface.
As at this moment, reclamation has been completed and runway surface treatment is on full scale. All reclamation works in potential runway and sea plain terminal have been completed per schedule. Soil compaction of south blast pad and the 500m zone north of south end have been finished, construction waste pit are being cleaned off, MOD area has been compacted, surface cleaning of sea plain area is done. Current focuses lies on the buried pipelines and soil improvement and shaping of newly reclaimed shallow water area (less than 5m).
INIA Project stresses on environmental friendly in its facilities such as office block, living quarter, desalination plant and power distribution station, etc, all facilities are operating smoothly. Type 60 concrete batching plant and Type 800 water station are built and now in operation. Currently major equipments are being installed in Type 180 concrete batching plant and asphalt batching plant.