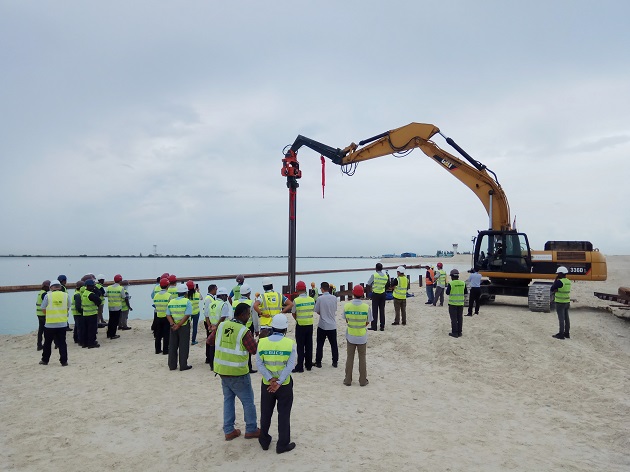 INIA Expansion and Upgrading Project held its commencing ceremony of shore protection works on July 31st, attended by Managing Director of MACL, SJ consultants and BUCG Project personnel. First sheet pile was driven successfully, marking full commencement of SP work.
The SP works comprises 3253.42m sheet pile walls and 1118.09 angled rock revetment. The sheet pile walls in turn comprise piles of 4 standard lengths: 7.2m, 10m, 15m and 20m respectively. The pile driving sequence is arranged so as to start at middle of inner lagoon and expend on both ways, expected to complete by end of Oct.
The research topic 'Shore Protection Technologies and Application in Maldivian 'is among the 7 major research topics headed by the technical innovation office of INIA project department. Project department formed technical division in its effort to expand frontier of construction technology, train its staff and accumulate experiences for future works.