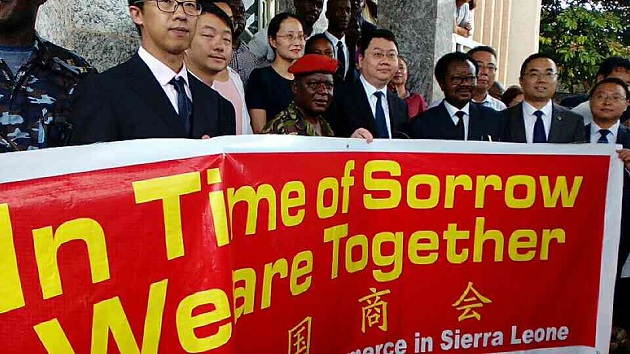 On the morning of August14, 2017, storms and torrential rains caused flooding and triggered mudslides to Freetown, Sierra Leone, which led to landslides in Sugarloaf Mountain. More than 300 were killed, more than 1000 were missing and more than 2000 became homeless.
When the disaster stroke, BUCG's Bintumani Hotel,as the president company of the Chinese Chamber of Commerce in Sierra Leone, donated USD 2000 and called on Chinese companies there, Chinese and overseas Chinese to fight against the disaster. They raised USD33860, more than LYS100 million(approximately RMB100000), 3.5 ton of rice, more than 1000 boxes of mineral water, 500 pieces of clothes,as well as medicines and food. On August 16, led by the Chinese ambassador to Sierra Leone, the chamber handed the money and supplies over to the office of the Vice-President of Sierra Leone.
President Koroma told the outside that it was very impressive to see Chinese companies bring large machinery and equipment to take rescue actions and to see Chinese medical workers provide with first aid. Now the Chinese government has offered one million US dollars, which was a timely help. It reminded him again of the Ebola outbreak that the Chinese government and people were working together to fight the outbreak. Koroma said it proved again that China was the most reliable partner and a good brother like "a friend in need".
BUCG fulfil their social responsibility in Sierra Leone. On the basis of good economic benefit, BUCG's Bintumani Hotel and water plant project in Potomac have created a large number of job opportunities for the local people and motivated local economic deveploment. Meanwhile the hotel and the water plant have been keeping in good contact with the schools,temples,and such social organizations, and pay visits and provide donations.