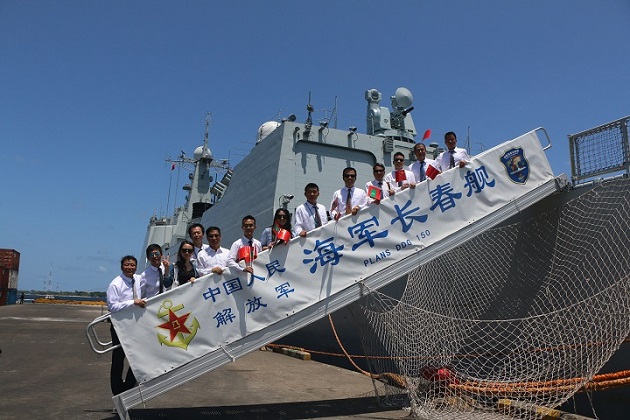 On August 27, Chinese Navy warship, Changchun,known as China Aegis made a port visit to Maldives. On behalf of BUCG, the airport project team was invited to welcome and visit the ship. The representative office staff and subcontractors went together.
From the introduction given by the commander of the warship, everyone learnt about the Armada's history, weapons and the glorious tasks that had been carried out.They wore white shirts with a BUCG logo and their high spirit attracted the ship's CCTV reporter. The project Manager, Zhang Fenglin, was interviewed and he said that they were very excited to visit the ship in a foreign country and they were very proud of the motherland. The airport extension was a key project of China and Maldives, and BUCG, who had built the Bird's Nest, the National Grand Theater and the capital airport, was confident, determined and had the responsibility to build Maldives airport into a new window to and a new pride of Chinese enterprises on the Belt and Road.
The "Warship, Changchun", was named "China Aegis". It was a new type of closed air defense missile destroyer designed and produced by our country, side number 150, 155 meters in length, 17 meters wide, with a full displacement of over 6000 tons. It could, with strong long-range warning, detection and regional air defense capabilities, attack enemy surface ships and submarines alone or in conjunction with other forces of the navy. It took part in major events, such as Aden escort an aircraft MH370 search and rescue. The visit to the warship enhanced the project team's patriotic feeling and their love for enterprises, and further enhanced their feeling for collective honor and the sense of responsibility to fulfill their task for the honor of the enterprise and the country.