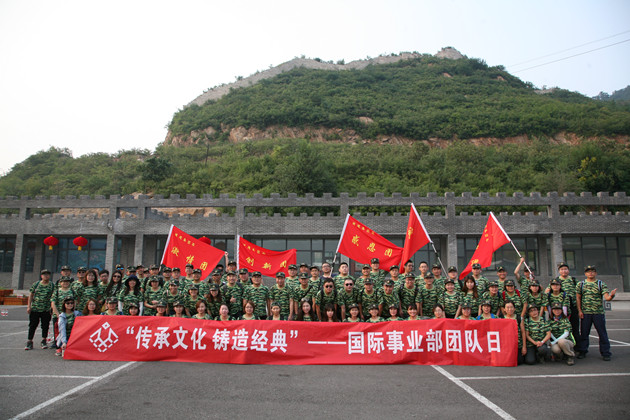 On the arrival of the annual team building day, 90 of BUCG-International domestic staff assembled at Shuiquangou of Beijing to demonstrate BUCG's tradition- the army culture. They were divided into 5 groups, named " creative", "passion", "integrity", "obliged" and "indebted". They cooperated like soldiers and achieved a march of 10 kilometers after traversing various barriers.
The training was mainly hiking, which well extended the follow-up heat of BUCG culture week. Many scenes were simulated during the training, such as ambushing, first aid, blind walking, cooking and fire-fighting. On the way one should be vigilant against the enemy's snipers and medics of each group should provide timely first aid. If someone stepped on a landmine, the others should make stretchers with any possible material available and carry the wounded out of the minefields. The roads were rough, the ravines and rapids were scattered, and the narrow spaces allowed only one to sidle through, and both sides were turbulent rivers. Organized by the group leader, all worked together to overcome fears and difficulties, and finally joined the forces at the camp.
In the process of marching on, everybody forgot their positions and genders. They fought the challenges together, felt the hardship of hiking and were intensified to approve army culture. The first aid technique of the coach was also very useful for BUCG-International to deal with the complicated emergency situation and security risks in foreign countries.
After breaking through the blockage,the dinner party at the camp was relaxing. Each supply chief arranged the food materials,the team members made fire and cooked food to supply physical strength, and they told each other their feelings. The one-day activity was intense and plentiful. Everybody enhanced their emotion for others, strengthened the identification with the enterprise while they experienced the culture of the team.
September 10, as a traditional team building day of BUCG-International, on this day every year, there will be all kinds of activities held revolving around enterprise culture and team philosophy. Through team integration and construction which are like a ceremony and engage everyone in, through all kinds and intensive activities participated by all, culture is the thing which drives everybody to cohere with each other and drives the development, and good feedback and continuous effect have been achieved.
At the same time, each overseas office and project have planned and made preparations for a variety of team day activities in accordance with local culture and conditions, and are being carried out in succession.