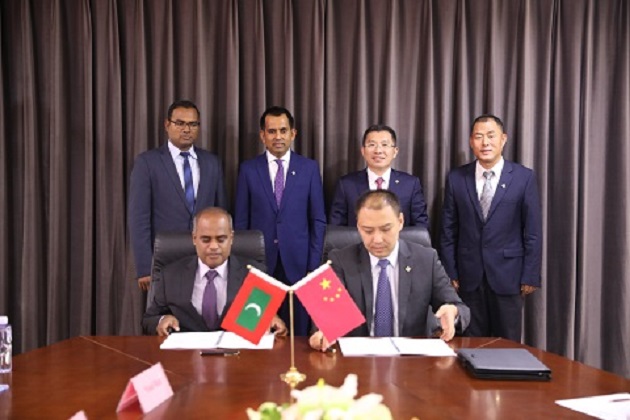 Under the witness of -Honorable Minster Mr. Mohamed Saeed, Minister of Economic Development of Maldives and Mr. Li Daosong, general manager of Beijing Urban Construction Group International business, Maladives Airports Company Ltd Managing Director Mr. Adil Moosa and the Beijing urban construction group international division deputy general manager Mr. Luo Wei signed the - "Seaplane Facilities at Velana International Airport Development Project in Maldives" (hereinafter referred to as the "water project") business contract.
The project– consists of construction of a seaplane terminal, floating dock, MRO facilities and other supporting facilities, the project owner is MACL in Maldives, Beijing urban construction group as the EPC general contractor.
The project is located in the East lagoon of the airport island. It is -main hub of transfers to the hotels for the tourists -- after arriving in Maldives. More than 50% of the visitors to the -Maldives take the seaplanes every year. According to the feasibility study, the water traffic volume will increase steadily at an average annual rate of 3.8%. It is estimated that by 2035, the number of passengers on board the water jet will reach 2.1 million - passengers.
As - Mr. -Saeed mentioned that Beijing urban construction group is a customer consideration, -, trustworthy enterprises, the -Maldivian Government and Airport Company are firmly convinced that they will see a successful project.