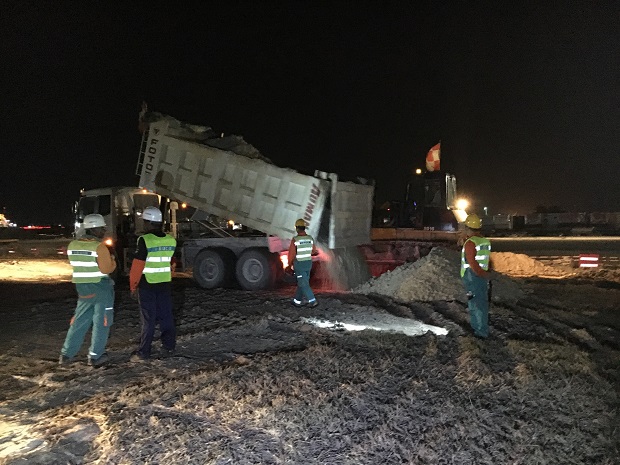 On 21st December 2017, construction activities with the floor area of 680, 000 square meters while the airport is operational were started officially, including 6 connecting taxiways between new Runway and existing Runway, 7 connecting taxiways between existing Runway and new West Apron, and the new West Apron for the Expansion and Upgrading of Velana International Airport Project.
Complex environments, and procedures and conditions associated with construction activities often affect aircraft operations and can jeopardize operational safety. Operational Safety on Airports during Construction means construction activities within airfield ongoing while the airport operator will still have the airport in operation or partially in operation so as to receive and/or send aircrafts. There are 4 major distinguishing features of the construction activities while the airport is operational: construction area shall be in compliant with ICAO requirement at least 30 minutes before the departure or arrival of the aircraft; high safety requirement to ensure no infringe to airport operation since the construction activities are within the airside; less working hours due to the work is basically from 12:30AM to 5:30AM due to the requirement from airport operator; complicated underground utilities along two sides of the existing runway and connecting taxiways.
Project team prepared Risk Assessment, Method Statement, Emergency Plan and related Safety Procedures to ensure project safety and quality.
5 Procedures contains Construction Activities Defining, Construction Activities, Construction Log, Demobilization and Summary for Record. Every day at 18:30PM, the duty manager will organize pre-construction meeting with contactors to define the works, analysis the safety hazards, and then to fill the construction application form. At 12:30AM (as per ATC Schedule), fill the Checklist, and then construction will be started upon approval from ATC and Aviation Security. At 5:20AM, superintendent will write the construction log, check the manpower and equipment. After that, superintendent will fill the construction form, material log, vehicle record, etc. At 5:30AM (as per ATC Schedule), superintendent will check the site, demobilize all manpower, vehicles and equipment, then to fill the checklist to get ready for the operation. Construction logs will be placed on file.
As of now, site clearance and ground improvement of TWY B, site clearance of TWY E and TWY F, site clearance and ground improvement of TWY T1 and TWY T2 were completed. There was no safety accident or incident up to date, safety is under control.