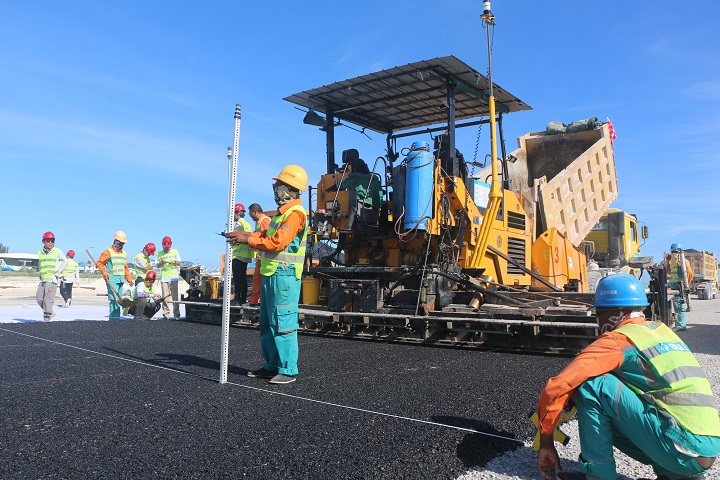 On the morning of March 14 local time, the paving construction of asphalt concrete in the undersurface layer of new runways in the Maldives Velana International Airport undertaken by Beijing Urban Construction Group Co., Ltd. was formally started, which is a key step for new runways to meet the requirements for calibration flight.
In the reconstruction and expansion project of Maldives Velana International Airport, the total length of the newly built Level 4F runways is 3400m, the width of runway is 60m, and 7.5m runway shoulder is set up respectively on both sides. Previously, through sea reclamation by blowing sand, our group filled up the gap of Chinese enterprises in the coral sand sea reclamation technology field.
The paving area is 200m long and 32m wide. Four paving machines, five steel-wheel road rollers and three rubber wheel road rollers were used, and approximately 1265 tons of AC-25 asphalt concrete was paved. Since it was a great test for the operation of asphalt stirring station, the dispatch of mechanical vehicles and the arrangement of onsite construction, every personnel participating in construction was ready in taking action.
At present, with great efforts made by all the staff, through the digitalized construction mode, sea reclamation by blowing sand at Maldives International Airport, concrete stabilization with coral sand cement, and Shell double modified asphalt concrete on main runways are being implemented steadily under the circumstance that safety and quality are guaranteed. It is expected that the asphalt concrete construction of undersurface layer will be completed in mid April.
Besides, the first pouring of large-volume concrete was also implemented in the Maldives water flight project. Through 26-hour continuous hard work, the pouring task of 1200m³ concrete of medium and heavy hangar in MRO hangar in the Maldives water flight airport terminal project was smoothly completed as scheduled.