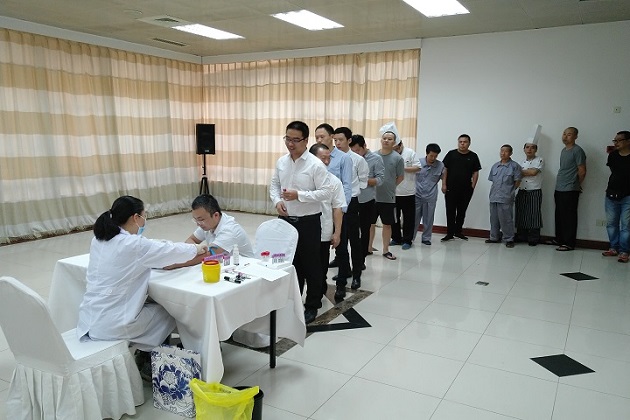 On March 25, 2018, experts of the military medical expert panel from China provided voluntary physical examination service for BUCG personnel of the Chinese side in Sierra Leone, and took blood test for 60 employees of the Chinese side engaged in the projects including Bintumani Hotel, Bocheng Water Plant PhaseⅡand 1510-Y3 Project. The experts would made physical examination for employees in terms of blood routine examination, liver function test, malaria, dysentery and etc.
The military medical expert panel aiding Sierra Leone is made up of experts from Academy of Military Sciences and 302 Military Hospital of China, and undertakes aid projects of People's Liberation Army of China for the military in Sierra Leone. In Sierra Leone, experts of the expert panel often provide voluntary medical service for various China-invested enterprises and ethnic Chinese groups, and enjoy favorable public praise and lofty prestige among ethnic Chinese groups in Sierra Leone.
In the voluntary physical examination, Secretary Huang Lei in the military medical group from 302 Military Hospital of China, Head Nurse Wu Dan, Doctor Yang Guang et al. made joint efforts, acted in a conscientious, meticulous and responsible way, and showed graceful bearing of People's Liberation Army of China. In addition, the physical examination also witnessed friendship between BUCG and the military medical expert panel once again. Both parties care for each other, help each other, and compose a song of praise that Chinese people are one family, the army and the people are as close as fish and water on the land of West Africa far away from motherland.