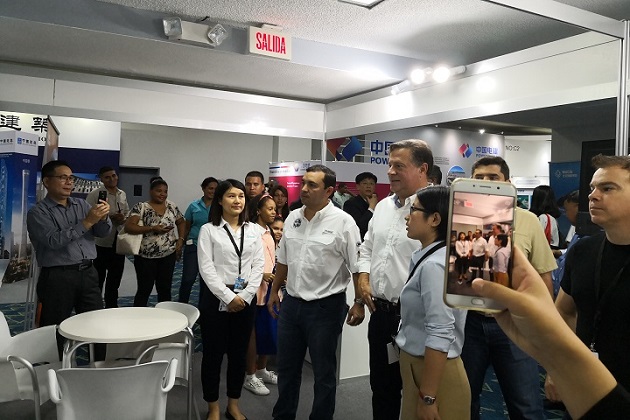 At 17:30 on September 8 local time, President of Panama Barella was present at the exhibition hall where 2018 Panama
"
Exhibition of China Engineering Technology & Production Capacity Cooperation and Equipment Manufacturing was held. When he came to the stand of BUCG, President Barella showed great interest in the Astana light rail project, the reconstruction and expansion project of Maldives Airport and the police institute project of Costa Rica, asked about the project details for many times, especially gave compliments to the police institute project of Costa Rica, and expressed his wish to see BUCG more in Panama as early as possible.
After the Exhibition of China Engineering Technology was officially opened, Party Secretary of BUCG International Wang Li led the BUCG International Meida workgroup and the representatives of the Marketing Department to participate in the exhibition. At the exhibition, comprehensive strength and professional level of BUCG were demonstrated in an all-round way, the achievements and performance of BUCG in overseas cooperation was also displayed.
T
he government officials with great influence in Panama including the specially assigned representative of Panama President, the ambassador of Panama embassy Wei Qiang, the
counselor
Wang Jian, Chairman of Panama Architectural Chamber of Commerce, President of China International Contractors Association et al. as well as our partners all came to the stand of BUCG for visit, guidance and business negotiation.
During the exhibition, Part
y Secretary of BUCG International Wang Li and staff accept
ed
interviews from the reporter of
the
Xinhua
News
Agency and CGTN successively. The landmark projects of BUCG including Bird's Nest, Beijing Daxing International Airport
, etc. enjoyed great popularity among local entrepreneurs and the public, which showed the strength and brand influence of BUCG.
The exhibition gave full play to the comprehensive strength and specialized technology of BUCG, which greatly improved the popularity of BUCG in Panama locally. Passionate people in Latin America liked the promotion bag printed with the pattern BUCG and Bird
'
s Nest very much. The eye-catching green promotion bags of BUCG carried the expectation of BUCG staff and the vision of local people. Hopefully, BUCG can be deeply rooted on this land in Latin America, cultivate fertile soil for BUCG, and fly the green color representing BUCG!
2018 Panama
"
Exhibition of China Engineering Technology & Production Capacity Cooperation and Equipment Manufacturing was opened on September 5, and
closed
on September 9. The exhibition has been successfully held in 16 countries, while this session of exhibition was jointly held by China International Contractors Association and local architectural industry
exhibition
in Panama. (BUCG International)