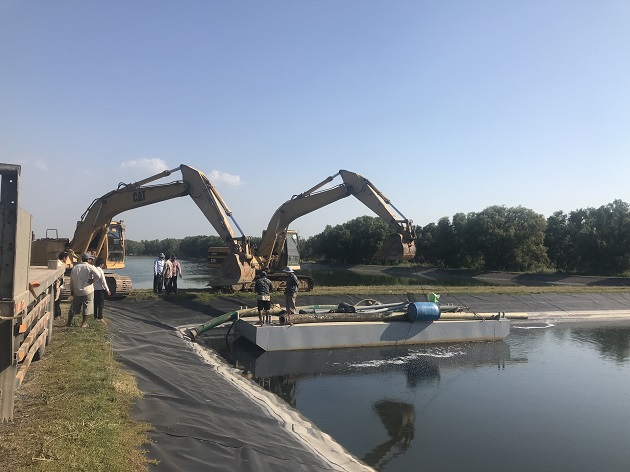 A f
ew days ago, Vice Premier of the Cambodian government & Minister of
the Department of
Land and Resources Sheffield Para investigated the issue on environmental pollution in Sihanoukville jointly with personnel from various departments, requested to recover the handling capacity of the existing sewage disposal plant, and organize personnel to carry out dredging as soon as possible. BUCG International was entrusted with a mission at the critical and difficult moment, actively performed the social responsibility of a state-run enterprise in
Beijing
, offered assistance for the Cambodian government
in
establish
ing
good image,
and
fulfilled the task to carry out dredging of 100,000m
3
within one month
,
which has
guarantee
d
natural environment and people's life
quality
in Sihanoukville
.
After receiving the task, BUCG International organized a project team
immediately
to make a field investigation of the sewage disposal plant in
Sihanoukville
, and set up a communication group for
"
dredging disposal of old sewage disposal plants
in
Sihanoukville"
. Aiming at the situation
of resource shortage including limited time, heavy task, adverse working environment, personnel equipment, etc
., through overall and scientific arrangement,
BUCG International
completed the installation of onsite pumping equipment and actual surveying of the deputy of sludge quickly, which has laid a solid foundation for the
determination
of construction program and the arrangement of progress plan.
Due to material scarcity and equipment shortage, the project team made full use of local resources, dispatched large machinery equipment and materials from three provinces including Phnom Penh, Kampot and Koh Kong, which has provided beneficial guarantee or quick launch of construction. Besides, the project team made
preliminary
investigation towards the building market and logistics in
Preah Sihanouk, and collected information for future project bidding and construction.
It
is the dry season in
Sihanoukville
. With strong sunlight and temperature as high as 35-37℃, construction personnel started the dredging engineering on October 20 under the intense heat of summer. So far, the dredging of 20,000m
3
has been
completed.
It
is expected that all he
dredging
work will be completed prior to November 18.