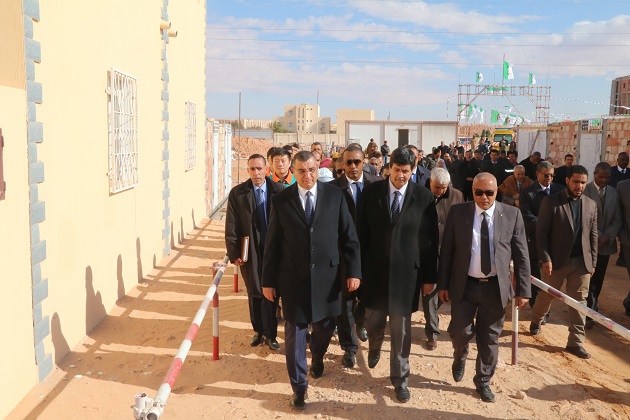 On the morning of February 27 (local time), on the occasion of the 57
th
anniversary
of the Algerian National Liberation Movement, a party led by Minister of the Ministry of Soldiers of Muslim National Liberation Movement Mr.
Tayeb Zitouni
, provincial governor of Quargla Mr.
Abdelkader Djellaoui
, etc. paid a visit to the BUCG project site of 1700 sets of
houses
for rental and sales, held the unveiling ceremony for the naming of 1700 sets of
houses
for rental and sales in Quargla. The ceremony was reported by multiple media such as newspaper in Algeria.
The project of 1700 sets of houses for rental and sales is located at the hinterland margin of Sahara Desert. As the independent housing, such 1700 sets of houses cover a total area of 860,000m
2
and a building area of 188,200m
2
. This is a new city brilliantly rising on the desert wasteland in the south part of Algeria, which has carried the hope of common people on their home for many years. The
residential
area was named
"
New Residence Site-
1962.2.27
"
by the Algerian government.
The minister and the provincial governor paid a visit to the project of 300 sets houses completed in May, 2018, showed great satisfaction with the construction progress, quality and other aspects of our department, greatly approved BUCG, and expressed the hope that BUCG can undertake more engineering in Algeria in the future.
With joint cooperation and efforts made by BUCG, the project of 1700 sets of houses has won public praise. At present, the project of 1700 sets of houses is at the stage for speeding up construction prior to completion. All the project personnel will continuously adhere to the excellent tradition and style of BUCG, guarantee performance as scheduled, deliver policy-based affordable housing in the south area for the first time, and make a good report to the property owners and people from all walks in Algeria!