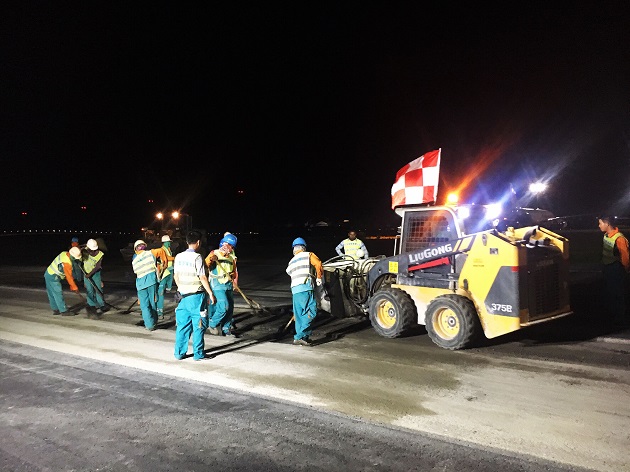 Recently, the Maldives Airport Project Department received the emergency demand from Maldives Airport Corporation on the implementation of emergency repair in some areas of the existing runways in operation. The Project Department organized specially assigned personnel at once to make field investigation of the existing runways jointly with personnel from the owner's company, finding that it was pitted with holes, rutting was severe in some areas of the existing runways in operation, and the evenness was far beyond the standard requirement, thus great potential safety hazard existed. The repair of the runways was extremely urgent.
The repair of the existing runways in operation is different from general construction without suspending air service. With limited time and heavy task, the runways must be recovered with airworthiness guaranteed, and it shall exert no impact on normal runway operation the next day. Since most repair areas were located in the area 5-10m from the runway central line, that is, the area where the aircraft wheel track is located. Once there was any slight error, the consequences would be unimaginable; for asphalt pavement, be open to traffic is only available after temperature drops below 50℃. Therefore, there are strict requirements for control over construction time; in addition, since the runways have been covered for many times, the structural layers are relatively complicated, which caused certain difficulties in onsite repair work.
The Project Department made a detailed discussion on construction arrangement and deployment, considered various kinds of emergencies and formulated emergency preplans, provided construction personnel with construction technologies and safety disclosure, ensured effective command, orderly action and busy but not messy situation in the onsite construction process. They made sufficient preparations ahead of time, including construction personnel, machinery equipment, repair materials, etc., made a good planning of the vehicle driving route, tried not to cause pollution to the existing runways, carried out every step in an orderly way according to surveying and setting out-milling-mechanical chipping-hand sweeping-tack coat spreading-paving-rolling-cooling by watering-airworthiness recovery, while such procedures would be completed within four hours.
According to statistics, there are more than 20 locations o be repaired on the runway. With different sizes (The maximum one covers an area of 280m2, the minimum one covers an area of 16m2), it is expected that the repair work will last for 15 days or so. The Project Department will carry out construction carefully with the responsible attitude towards the client, and complete the emergency repair work in a safe and high-efficiency way.