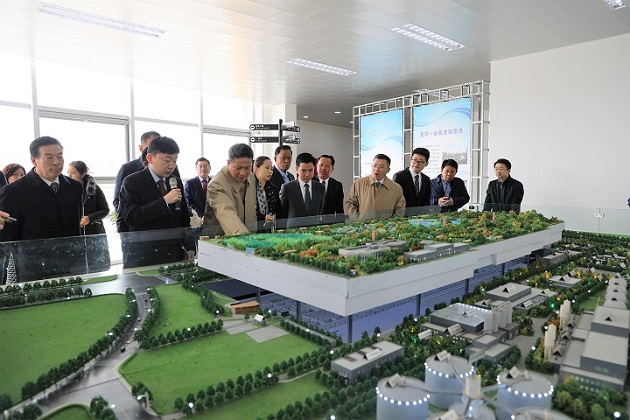 Invited by the Ministry of Transport of China, a business delegation made up of 15 persons led by Minister of State of the Kingdom of Cambodia, Minister of the Ministry of Public Works and Transport Sun Zhantuo paid a visit to the construction engineering including the port and the sewage field, etc. in China. On the morning of March 28, Sun Zhantuo et al. paid a visit to the Beijing Huaifang Recycled Water Plant Project and listened to the report. Relevant personnel including Deputy General Manager of BUCG Wu Jihua, Manager of BUCG International Li Daosong, Deputy Manager Luo Wei, Deputy Manager of the Civil Engineering Department Wang Linghong et al. attended the meeting, and made joint discussion in terms of the construction of sewage disposal engineering in Cambodia.
First of all, Minister Sun Zhantuo listened to the English report about key engineering and core business of BUCG, and asked about the construction cost, operation and cost recovery of Huaifang Water Plant, tap water price in Beijing, etc. in detail for reference in water treatment engineering and relevant management in Cambodia. Wu Jihua delivered a warm welcome to 15 persons led by Mr. Sun Zhantuo for the visit to BUCG. He mentioned, with extensive cooperation and traditional friendship between China and Cambodia, BUCG would very like to make contributions to Sino-Cambodia friendship.
After the meeting, Sun Zhantuo et al. paid a visit to Huaifang Water Plant. As the key point in the business visit, based on the development situation of the water affairs market in Cambodia and the cooperative projects of both parties, Sun Zhantuo especially consulted relevant personnel in terms of the treatment process, investment, operation, etc. of the recycled water plant. As the largest underground sewage treatment engineering project in Asia, Beijing Huaifang Recycled Water Plant realizes daily discharge volume of 600,000m3, and adopts the advanced MBR treatment process. According to the requirements of Beijing Municipal Government, BUCG has completed the engineering construction task as scheduled with safety and quality guaranteed, and obtained the highest award for civil engineering in China Zhan Tianyou Award and the gold award for international innovation granted by World Water Association for the project.
BUCG has entered the Cambodian market and stayed here for four years, and put emphasis on market development in the water field. On June 13, 2018, BUCG and the Ministry of Public Works and Transport of Cambodia signed a contract for the development project of the sewage/rainwater system in Sihanoukville, Siem Reap and Takhmau. The visit makes both parties deepen understanding and cooperation, and is beneficial to BUCG in promoting the projects in Cambodia.(Gao Quanlei)