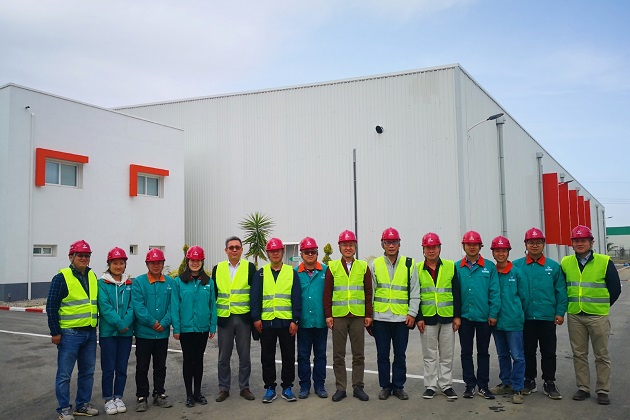 From March 25 to April 1, 2019, led by Secretary of the Discipline Inspection Commission of BUCG Wang Xianji, Deputy Secretary of the Discipline Inspection Commission of BUCG & Director of the Inspection Office Yu Jianfeng, Director of the Business Department Liu Fengyuan and Secretary of the Party Committee of BUCG International Wang Li carried out inspection towards some projects of BUCG International in the African areas including Algebra and Sierra Leone, the implementation of project operation of Bintumani Hotel as well as the construction of the Party conduct and an honest and clean government abroad.  
On March 29, Wang Xianji et al. paid a visit to the newly appointed Chinese ambassador in Sierra Leone Hu Zhangliang and the counselor Zhang Xueqian. Ambassador Hu showed gratitude to BUCG for its great support in the period while Sierra Leone resisted Ebola virus. Besides, as the president unit of the Chinese Chamber of Commerce in Sierra Leone, BUCG is expected to further play its part for cooperation among Chinese enterprises, explore the effective mode for the implementation of Party building abroad, set an example for Chinese enterprises, and make more people in Sierra Leone know BUCG.
Wang Xianji et al. successively made a field investigation and a return visit to the fixed biological laboratory aided for Ethiopia, the 1510-Y3 military aid project, the 1700 sets of housing for lease and sale project in Algeria, the 1033 sets of housing project, the tuna and mayonnaise processing plant project, the opera house project, the refinery project, the 500 sets of commercial housing project, and listened to the report about business development in relevant market, project construction progress, hotel business condition and Party building work.
During the visit, Secretary of the Discipline Inspection Commission of BUCG Wang Xianji gave a Party lecture with the theme of "Leaders shall abide by the standards for strict ban, strict testing and strict penalty,  to be three kinds of people" to the Party branch in Algeria and Sierra Leone with vivid cases, requested all the Party members to "strictly cultivate moral character, strictly exercise powers, be strict with themselves, know politics well, never offer or take bribery, be well-behaved in life." Secretary Wang pointed out that he was deeply touched every time while he was abroad. He could feel the difficulty of BUCG staff in fierce competition abroad. It is exactly the sacrifice made by BUCG staff abroad with their own youth and family warmth that has established the new situation of overseas market development. The African market development has laid a foundation for overall development of BUCG International. During the African market development, BUCG not only formulated effective strategic layout and benefited from it, but also made outstanding achievements in talent cultivation, continuously carried forward the culture of BUCG, and won good reputation for the brand of BUCG in overseas market. (Dong Yu)