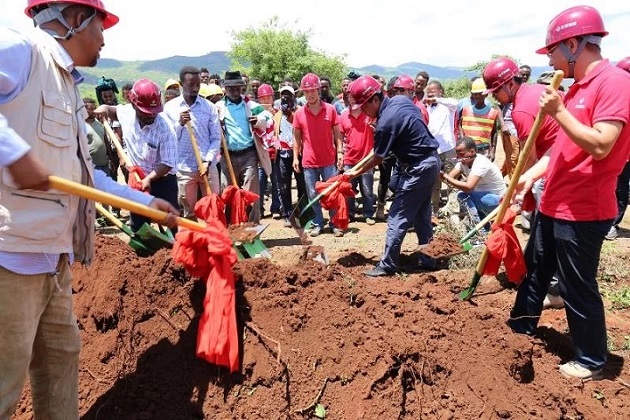 At 11:30 am local time on April 30, 2019, a groundbreaking ceremony was held for the Ethiopian DSS highway project at K117. The local government and supervisors attended such ceremony.
The head of the Ethiopian DSS-MGC Highway Project Management Department delivered a speech on behalf of the project department. He said that the project staff will adhere to the spirit of "building a good project and establishing a monument" to build a "heart-winning project" and reasonably organize the construction for early completion, giving the local people a satisfactory report.
The DSS project director said that under the premise of ensuring quality, active cooperation will be given to the project department to spare no efforts in putting the project into operation as soon as possible, so that the local people can enjoy the convenience from the project as soon as possible.
The local government officials expressed warm welcome to BUCG people who came here for construction, and also pointed out that the project has a great impact on the local area, and the local government will provide active cooperation to ensure the smooth progress of the project.
The groundbreaking ceremony of the DSS highway project marked the official entry of the project into the implementation phase of the main works. At present, the construction of clearing and earthwork will be carried out, and the project department will organize the follow-up construction work.
The Ethiopian DSS Highway Project is the first project of BUCG in the Ethiopian market. BUCG overcame various difficulties in the preliminary preparation stage, and the project was successfully commenced, demonstrating the commitment of BUCG to face the difficulties and fulfilling its obligations to the utmost, which is of great significance to the follow-up development in the Ethiopian market.