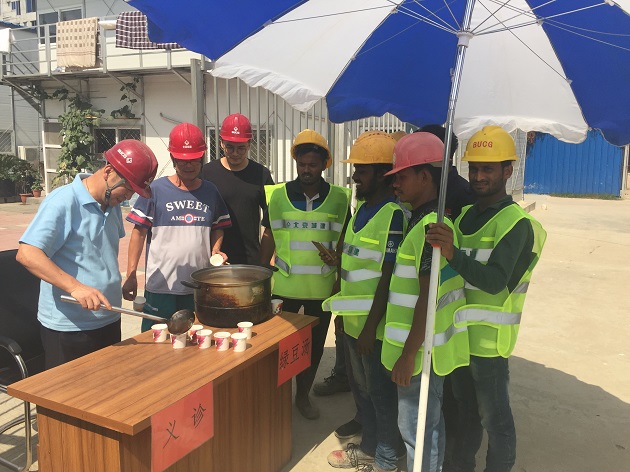 Dhaka, the capital of Bangladesh, is extremely hot all year round. Especially in the rainy season from May to September, it is extremely hot. The Party Branch of BRAC in Bangladesh officially established the "Love Station" on May 1, bringing a touch of cool to the field workers and putting the measures against relieving the heat into practice.
On May 1, the International Labor Day, the "Love Station" was operated for the first time. Yu Haiming, Party Secretary of BRAC Project, led all Party members and 6 volunteers to distribute mung bean soup and heatstroke drugs to field workers, and the doctors for the project provided local workers with free clinic services. The workers gave a thumbs-up gesture while enjoying the drinks, saying "BUCG---GOOD"!
The event will be held once a week from May to September 2019 and organized by the Party members and applicants for Party membership of the project department and mass volunteers. Good results have been achieved in fulfilling the overseas social responsibility of state-owned enterprises, effectively carrying out localized construction and realizing BUCG's corporate vision of "powerful enterprise and happy employees".