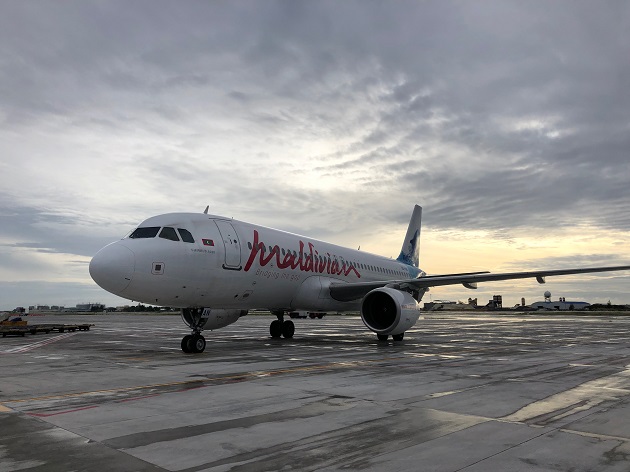 At 7:10 local time on July 17th, 2019, a Q2341 Airbus A320 flight affiliated to Maldives Airlines flying from Chengdu, China smoothly landed on Vilana International Airport of Maldives and safely docked on the seat on extended west airport apron built by BUCG, marking that the extended west airport apron has officially been put into commercial operation.
Moosa Solih, General Manager of Maldives Airport Company, along with the principals of departments of airport company, related principal of Department of Maldives Project of BUCG and the media representatives, participated in the operation ceremony of extended west airport apron, and expressed his welcome for Chinese tourists. The relevant renovated area of west airport apron has been delivered to our company on July 15th, and the project department has currently finished the installation of construction fence and is planned to carry out the demolition of existing apron concretes under the condition of ensuring the normal operation of the airport and start the large-area construction for the renovated area of west airport apron.
The delivered area of extended west airport apron is about 71,600 square meters, available to provide 3 E-level combination seats, 2 E-level seats and 1 C-level seat. Construction of extended area of west airport apron began in September 2018, and it took 6 months to finish the construction of all pavements in February 2019, finishing the construction of all marking lines and navigational lighting aid in April 2019, finishing the internal acceptance and supervision acceptance in the end of April 2019, and officially starting the trail operation on June 26th, 2019 after passing the acceptance checked by Maldives Civil Aviation Administration in the middle of June 2019. After a period of trail operation, the extended west airport apron officially starts the commercial operation.
The extended area of west airport apron of Maldives airport project is the first project delivered to the owner and operated among the Maldives project cluster, bringing great significance for BUCG which has expanded the Maldives market for 6 years and greatly inspiring and encouraging BUCG staffs who stand fast and struggle in Maldives. The commercial operation of the apron further increased the passenger throughput of Maldives airport, drove the development of local economy, improved the employment demands and made substantial contributions to the implementation of "Belt and Road" Initiative.