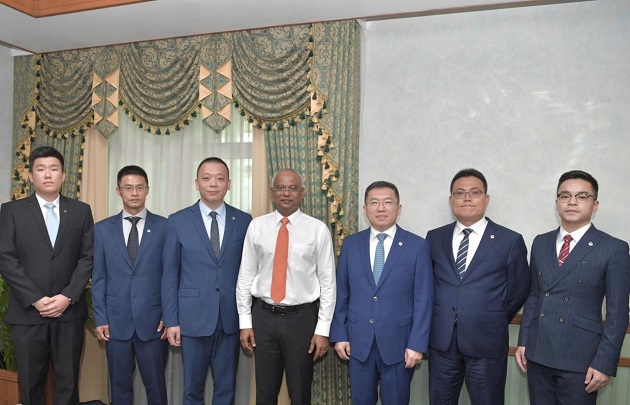 On August 21, 2019, Li Daosong, the Manager of BUCG International Department, paid a visit to Ibrahim Mohamed Solih, President of Maldives and exchanged views on the business development of BUCG in Maldives, especially on the Airport Economic Zone project.
After listening to the report on the development concept, planning and design of the Airport Economic Zone Project and the impact of the project on Maldives, President Solih showed great interest in the project and made a detailed understanding of the project's functions, scale, duration, social effects, etc. President Solih pointed out that they welcomed and looked forward to BUCG's investment in Maldives very much. The Airport Economic Zone Project would greatly promote the economic and social development of Maldives and provide greater security for the 11th Indian Ocean Island Games to be held in Maldives in 2023. The president also assigned special person as the general coordinator of the project to coordinate the relevant government departments of Maldives on behalf of the president's office and accelerate the preliminary work of the project.
Li Daosong said that BUCG attached great importance to the sustainable development in Maldives, and hoped that the president could give greater support and help to the Airport Economic Zone Project to ensure the early implementation of the project; And he also expected that President Solih would visit BUCG headquarters and the projects built by BUCG during his visit in China in the future.
During his visit, Li Daosong met with Ambassador Zhang Lizhong of Chinese Embassy in Maldives, Maldivian Minister of Economic Development Fayaz and the management team of Maldivian MACL Company and Maldivian HDC Company.
Airport Economic Zone Project is an integration project of investment, construction and operation actively operated by BUCG in Maldives. It is highly linked with Vilana International Airport in Maldives, aiming to create the airport economy that meets the future development of Maldives. After the completion of the project, it will greatly enhance the national image of Maldives, effectively drive the construction of the capital economic circle of Maldives, promote the development of airport economic industry, and generate good economic and social benefits. At the same time, it will also become a "showcase of the maritime Silk Road".