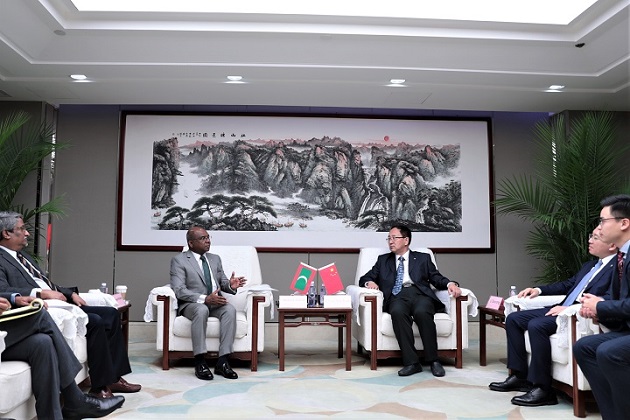 On the afternoon of September 18, Abdulla Shahid, Maldivian Minister of Foreign Affairs and the delegation made a visit to BUCG to discuss the cooperation between BUCG and the Maldivian government with Chen Daihua, the Chairman of BUCG. Li Daosong, the General Manager of BUCG International Business Department accompanied for the meeting.
Maldivian Minister of Foreign Affairs Abdulla Shahid's visit was the first visit to China by Maldivian Minister of Foreign Affairs since the establishment of a new Maldivian government at the end of 2018. Shahid expressed thanks to BUCG for a series of projects such as the reconstruction and expansion of Vilana International Airport in Maldives, and congratulated the remarkable achievements of BUCG in the past 36 years. He pointed out that BUCG is a very important partner of Maldivian government, and the two parties should establish a long-term and stable cooperative relationship in the future. Maldivian Airport Economic Zone project has been highly valued and expected by the Maldivian government. It was hoped that this visit could effectively promote the project to a deeper level, and provide services for 2023 Indian Ocean Island Games in Maldives after completion. He said that both parties have maintained good interaction and exchanges in the past, and he was willing to make efforts to promote bilateral cooperation in more areas in the future.
Chairman Chen Daihua welcomed the arrival of Foreign Minister Abdullah Shahid. He said Maldives has always been a very important and long-term partner of BUCG. Maldives Airport Economic Zone project was another key project of BUCG after the reconstruction and expansion of Maldivian Vilana International Airport, Maldivian Seaplane Terminal and its auxiliary facilities. The visit of Foreign Minister Shahid to BUCG was a key step in the promotion the project. BUCG will coordinate resources of all parties, actively allocate organizations, and strive to promote the implementation of the project. With the gradual stability of Maldivian political economy, it is believed that the two parties will usher in a deeper level of cooperation and exchanges, a broader cooperation space and a better future with the support of "Belt and Road" and the vigorous efforts of Maldivian government.