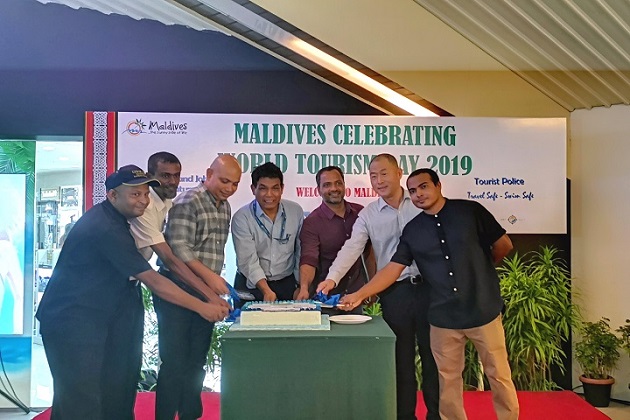 This year is the 40th anniversary of World Tourism Day. Recently, the Maldives Tourism Police Office held a grand ceremony to celebrate the World Tourism Day with the theme of "tourism and work for a better future". BUCG Maldives Airport Project Department was invited to attend and received the Certificate of Appreciation of Maldives Tourism Police Office.
Maldives is known as the "paradise on the earth". Tourism, as its largest industry, plays an important role in the Maldives' national economy. As the gateway for tourists to enter the Maldives, the expansion and modernization project of Vilana International Airport in the Maldives were undertaken by BUCG, which will effectively improve the local air transport conditions and have great significance in promoting the development of local tourism and related industries. At the ceremony, the Chief of Maldives Tourism Police Office gave full recognition to the outstanding contribution of BUCG.
For a long time, the Maldivian Airport Project Department has been abiding by the core value of dare to take responsibility, actively fulfill social responsibility, and set a model one by one. Since 2018, the Project Department has sponsored sports events such as football match of Maldives Tourism Police Office and Maldives Youth Games for many times. In February 2019, in response to the urgent needs of the airport company, the Project Department organized personnel to carry out emergency repairs to some areas of the existing operating runways overnight, and managed to complete the emergency repairs within four hours. In July 2019, the Project Department went to Maldives Agricultural Island to donate badminton rackets, football and other sporting goods for local students. On August 2, 2019, BUCG was awarded the "Ran Laari Award 2018", the highest award for tax paying enterprises by the government of Maldives, and was the only Chinese enterprise to win this award. On September 21, 2019, the Project Department responded positively to the call of the Chinese Embassy in Maldives, and immediately donated emergency relief supplies to local residents affected by the fire. In September 2019, the Project Department donated 20 walkie-talkies for the airport security company. In addition to actively organizing and participating in social welfare activities, the project department also actively carried out a series of holiday solicitude activities, which fully demonstrated the good image of Maldives Airport Project Department that attaches importance to and cares for employees.
As the key project of One Belt and One Road for BUCG, Maldives Airport Reconstruction Project can guarantee the high quality engineering construction. At the same time, it actively fulfill the social responsibility, with one action seriously realizes the enterprise objective of BUCG —"valuing trust, promoting profits and serving the society", highly demonstrates the good demeanor of BUCG as a large state-owned enterprise in the capital of China.