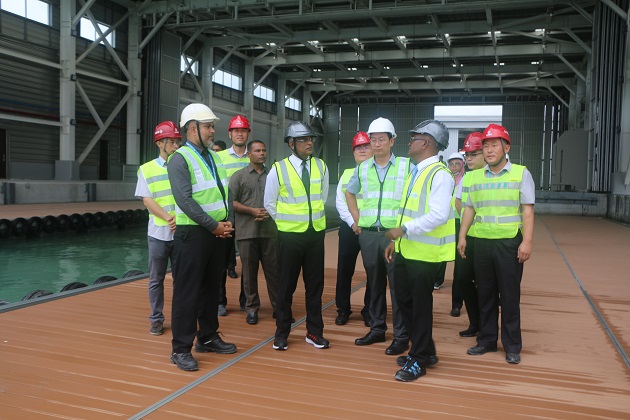 On the afternoon of November 7 of local time, President of Maldives Ibrahim Mohamed Solih inspected the Maldives airport project, accompanied by Zhang Lizhong, the Chinese Ambassador to Maldives, Xia Xiaowei, the Counselor of Commercial Office, Mahjoob Shujau, the Special Consultant of the President's Office of Maldives for Airport Project, Ibrahim Nooradheen, the Executive Director of Airport Company, and Mohamed Solah, the General Manager of Project and Planning Department of Airport Project. The President Solih inspected the construction sites successively, including the seaplane terminal, seaplane maintenance hangar, west airport apron and air cargo terminal, and inquired the overview, progress and completion node of constructions in progress.
Solih fully affirmed BUCG's professional technical capacities and rich construction experiences, and highly praised the quality of constructions in progress and site management of renovation and extension project of Maldives airport. Solih said that the renovation and extension project of Velana International Airport is the major project concerned by the Maldives government, and the President's Office has appointed the special consultant to timely coordinate and solve the difficulties and problems occurred in the construction of project for ensuring the successful implementation of the project. After the completion of project, the airport will play a significant role in promoting the development of Maldives in social economy and tourism.
Zhang Fenglin, the Manager of Maldives Airport Project, introduced the overall progress of project, and said that since the renovation and extension project of the airport is started from April 2016, all staffs of the project has overcome numerous difficulties and achieved the node targets one by one under the support of the Maldives Government, the Chinese Embassy in Maldives and Maldives Airport Company and Group. At present, the new runway, new east airport apron and extended area of west airport apron have been completely constructed, and the seaplane terminal and renovated second area of west airport apron are smoothly constructed. It is planned to complete all constructions under the contract in the beginning of next year, and the air cargo terminal will be delivered for operation in the end of the year 2020. In following constructions, BUCG will continuously give play to the technical strength and assume the social responsibility as an international large contractor, and make great efforts to deliver excellent constructions, making contributions to promoting and enhancing the friendship between China and Maldives.