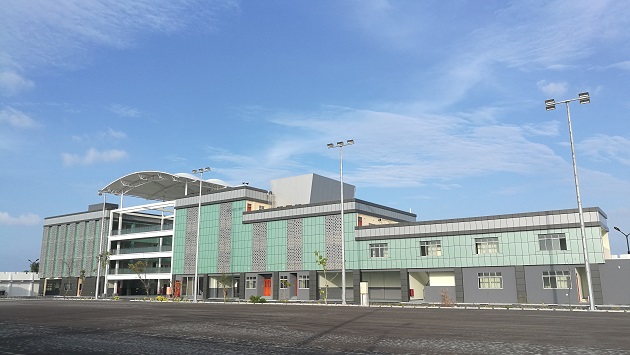 On February 23, 2020, the MNDF facility project in the contract of auxiliary facilities of Maldives Airport successfully passed the acceptance check by Maldives Airport Company as the first project satisfying the delivery conditions of overall completion in the Maldives project group established by BUCG. As Maldives Airport Company issued the delivery certificate, the project was officially put into use.
Since the project passed the acceptance check by the electrical department of Maldives Airport Company and successfully completed the official electricity access on February 19, the project department has made persistent efforts to actively coordinate with the airport company to carry out the completion acceptance with inspecting and delivering buildings and rooms one by one. Through unremitting efforts, the acceptance check and delivery were finished for all 7 single buildings and auxiliary buildings such as outdoor square, flag stands, fences and gates on February 23, achieving the overall delivery of Maldives Airport Company.
The MNDF facility project is an important constituent part of the auxiliary facilities project of Maldives Airport. The project department has made careful organization and reasonable planning since the beginning of the construction of the project, and has completed the construction task with stipulated quality and quantity by overcoming the difficulties such as insufficient fund and difference of standards. During the construction, the project department responded to the needs of owners and adopted local construction techniques for reference to ensure all projects conform to local usage habits; during the comparison and selection of materials and equipment, considering the corrosion factor of local salt-spray environment, the project department clearly specified the requirements for links such as procurement of materials, installation of equipment and protection of finished products and actively met the challenges with the attitude that "methods are always more than difficulties" to guarantee the project quality; during the installation and debugging of electrical system, the project department solved the problem of compatibility between the UK standards adopted in the design of electrical equipment and the local general standards by studying the electrical norms in Maldives and fully implemented all system functions.
As the first project passed the completion acceptance for overall project in Maldives project group established by BUCG, the MNDF facility project has taken the first step in the delivery of the renovation and extension project of Maldives Airport, which is of great significance. During the outbreak of COVID-19 in China, the staffs at the construction line gave up their holidays of returning home and continued to stick to their jobs to actively promote the progress of the project, and will take the delivery of the project as an opportunity to continue do well the completion acceptance and delivery of seaplane terminal, fire station and seaplane maintenance hangar in 2020. Let's overcome difficulties with all efforts and live our lives to the full!