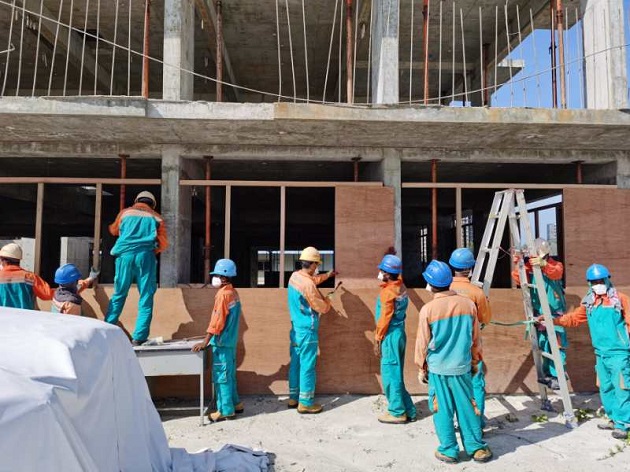 On April 24, local time, BUCG Project Department in Velana International Airport of Maldives received an emergency call from the senior consultant of the President's Office of Maldives at Velana International Airport, which said that the Ministry of National Planning & Infrastructure of Maldives requested the project department to assist in rebuilding a two-story building (about 2,240 square meters) in Hulhumale into a temporary quarantine facility capable of providing 327 beds to cope with the rapid spread of COVID-19 in Maldives and the condition of shortage of current quarantine facilities in Hulhumale.
Upon receiving the notice, Zhang Fenglin, the manager of project department in Velana International Airport of Maldives, immediately arranged the engineers and technicians to make field investigation on site and to learn about the construction content and negotiate the construction plan. Moreover, a construction team including more than 40 workers was quickly established, which has started the construction on April 25, and it is planned to complete the construction task in ten days.
BUCG actively fulfills the social responsibility as an enterprise and establishes a good image for Chinese enterprises. After the outbreak of epidemic in Maldives, BUCG has been following closely the development of epidemic in Maldives and supporting Maldives in fighting against the epidemic. After donating the anti-epidemic materials to Maldives Airport Company, BUCG responded to the request from the government department again to cooperate with the construction of anti-epidemic quarantine facility, which established a good image for China-funded enterprises in Maldives to actively fulfill social responsibility and deepened the traditional friendship that Chinese people and Maldivian people pull together in times of trouble and help each other in defense work.