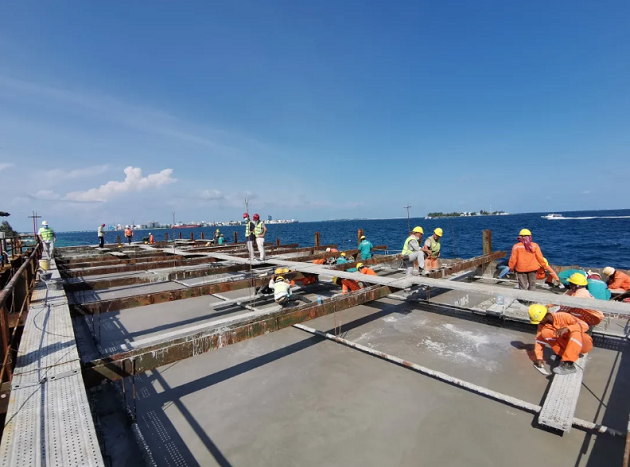 On July 28, the concrete of marine operation platform of oil wharf in Maldives Velana International Airport Renovation and Extension Project was successfully poured and passed the acceptance check in one time, which indicated that the main body of the oil wharf was basically completed.
The marine operation platform of oil wharf is the structure with the largest volume of cement concrete poured in single time in the Maldives airport project. The pouring of concrete was officially started at 12 am on July 27 and finished at 4:45 am on July 28, and the surface troweling was finished at 8:35 am. The whole process took nearly 21 hours with pouring 750 cubic meters of concrete.
The marine operation platform of oil wharf is 38.5m long and 11m wide, with the thickness of concrete of 1.80m. Since the construction of the bottom formwork on June 8, 2020, 450 tons of steel formwork has been installed, 82 tons of reinforcing bars have been bound, 88 embedded parts of various equipment have been installed and more than 300 meters of pipelines have been embedded. During the period, the project department has solved various construction difficulties such as the welding for bottom board under the condition of high tide and large waves, the support of formwork of marine mass concrete, the temperature control for pouring concrete and the accurate location of pre-embedded parts, and has made phase achievements.