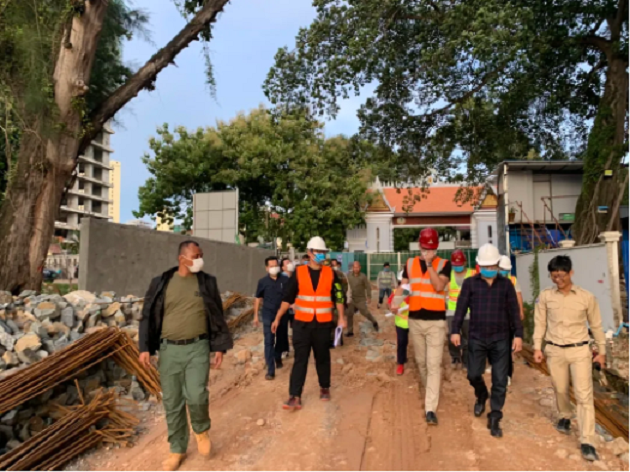 At 6pm on June 17, local time, the delegation led by Ong Seviso, the State Secretary of the Ministry of Economy and Finance of Cambodia, visited the sewage pumping station project in Sihanoukville, Kingdom of Cambodia undertaken by BUCG, and carried out the investigation and research on site for the project accompanied by all management staffs and technicians of the project.
The delegation led by Ong Seviso inspected the construction condition of main structure of the pumping station, and listened carefully to the detailed introduction of the overall condition and construction progress of the project on site. He fully affirmed the professionalism of the feasibility study in early period, planning and design of the project and the standardization of implementation progress, safety and quality management of the project made by the project team, expressed his appreciation for the professionalism shown by BUCG, and praised the contribution made by BUCG in solving the local problem of rainwater and sewage treatment.
Ong Seviso also said that the Cambodian government will continue to actively promote "the Project of Special Planning for Sewage and Sewage Treatment Plant in Sihanoukville" to improve people's livelihood, and looks forward to deeper cooperation with BUCG in the future.
The project is located in Sihanoukville, Kingdom of Cambodia which is one of the important tourist cities in Cambodia, therefore, the local government attaches great importance to the progress of the project. After the completion of the project, it will effectively improve the local problem of rainwater and sewage treatment, and play a vital role in the development of local tourism.