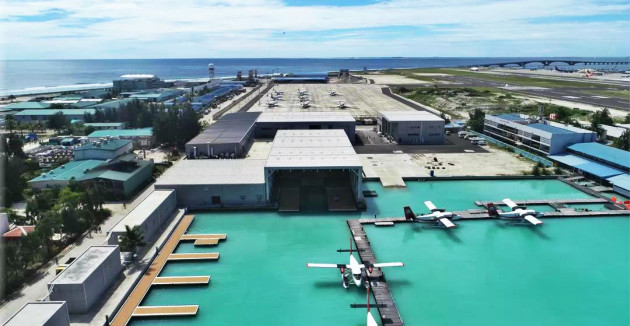 The key project of Maldives Airport projects—the seaplane dedicated MRO project reached the design and contract conditions, passed each acceptance successfully, and completed the overall delivery on March 22, 2021 after multiple rounds of joint acceptance by the project owner Maldives Airports Company and the operating and using unit.    
     The Maldives airport seaplane dedicated MRO project is located in the south side of the seaplane operation area in Maldives Airport Island, with the overall floorage of 11000 m2, and it includes two land maintenance hangars, one water maintenance hangar, one maintenance dock with 6 engine dedicated test and overhaul positions, one maintenance shop for operating guarantee vehicles, and accessory office buildings and some supporting facilities. The project, as another EPC project undertook by BUCG, is designed, and constructed in accordance with British standards on the whole.
    Now the three commercial seaplane companies running in Maldives Airport Island have built simple maintenance shops separately, and the facilities are too old and aging to achieve the collaborative sharing and cannot satisfy the increasing need of seaplane operation yet. After New seaplane dedicated MRO comes into use, it provides kinds of overhaul, repair and maintenance services for all seaplanes and special-purpose vehicles of the existing 3 seaplane companies. MRO not only integrates resources and improves the efficacy, but also lays a good foundation for continuously expanded scale of the seaplane operation service in the Airport Island in the future.