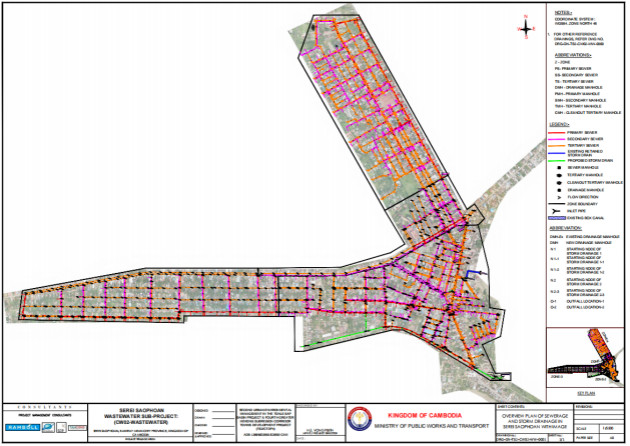 BUCG received the letter of acceptance on "the project of sewage treatment and drainage work in Sisophon" officially signed by Ministry of Public Works and Transport of Cambodia on March 19, with the bidding amount of 22,486,000 USD. The project is another water construction project after successful bidding of Battambang waste water treatment project, Siem Reap storm sewage expansion and reconstruction project, and Sihanoukville Autonomous Port temporary pumping station project in the Cambodia market, which embodies the brand influence of BUCG in the water construction field of the Cambodia market and blows a horn for the first year of "the Fourteenth Five-Year" strategic planning of BUCG.
    The project is located in Sisophon, Banteay Meanchey Province, Cambodia, and belongs to the second urban environmental governance project in the Tonle Sap basin, about 424 km away from Phnom Penh, the capital of Cambodia. The total      service area of the project is 463 hectares and the service population is 24,100 people. The whole project includes 1 sewage treatment plant with the total floor area of 3 hectares and the treatment capacity of 3600 m3/day (another 7-hectare land is taken as the reserved land, and used for subsequent reconstruction and extension of the project and the construction of a wetland park), 4 sewage pumping stations, 133-km sewage pipe line, and 6.88-km rain-water pipe line and ancillary facilities. The storm drainage system is buried-reinforced concrete pipe culvert and box culvert, and the servicing silos and collecting pits are set along pipes. The sewage network uses HDPE pipes, and the servicing silos and collecting pits are set along pipes. The planned project duration is 3 years. After the completion of the project, one perfect sewage treatment and collection system will be built to improve Sisophon appearance and local residents' living environment.
    The project is the loan program of Asian Development Bank (ADB) and also one of the significant achievements of BUCG who keeps in step with the national "One Belt and One Road" Initiative, deeply plows in the Cambodia market, and positively forges water construction products. In the bidding process of the project, the International Business Division formulated a clear plan, coordinated the internal and external resources, organized some specialized persons for site survey, investigated the market conditions of local relative building materials and mechanical equipment in detail, fully exerted the combined efficacy of the marketing terminal and the project terminal, and successfully completed the bidding work of the project.