Speaker of Cameroon's National Assembly, Prime Minister and Chinese Ambassador to Cameroon Visited the China-aided Cameroon's National Assembly Building Project Together
On July 4, 2022 (local time), Speaker of  Cameroon's National Assembly Cavaye Yeguie Djibril, Prime Minister Dion Ngute Josephand and Chinese Ambassador to Cameroon Wang Yingwu visited the China-aided Cameroon's National Assembly Building Project together, accompanied by Théodore, Deputy Speaker and Chairmen of the Project Tracking Committee, Mbella, Minister of Foreign Relations, Louis Paul Mottasse, Minister of Finance, Usman, Minister of Economy, representatives of National Assembly and Commercial Counselor of the embassy Guo Jianjun. Cameroon National Radio (CRTV), the Tribune and other local mainstream press followed this report.
Cavaye expressed great delight about the important achievement made in this project, saying that this project was a great support to Cameroon and a specific example of traditional friendship and cooperation between two countries. Prime Minister Ngute expressed gratitude to China's assistance and hoped to further strengthen friendly relations and deepen sound cooperation in various fields.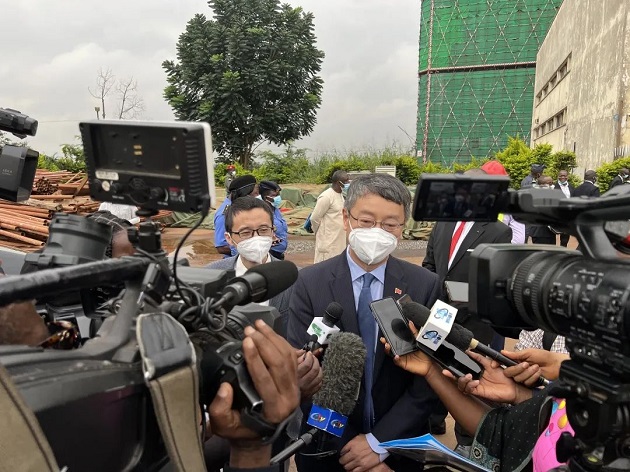 Wang Yingwu said this project was an important achievement in China-Cameroon relations and a vital support to Cameroon. Engineers and technicians of both parties worked together to fight against challenges like COVID-19 and ensured safe and high-quality construction, and now over half of the project has been finished. We hope that both sides will further strengthen communication and cooperation, promote the high-quality completion of the project in time and give full play to its political and social benefits.
The project team claimed that under the guiding of the Chinese Embassy to Cameroon, the Economical and Commercial Office and the International Economic Cooperation Bureau of the Ministry of Commerce, they will overcome all difficulties in both construction and epidemic response. And they will also ensure quality, safety and timely progress to make a satisfying contribution to building the bridge of China-Cameroon friendship.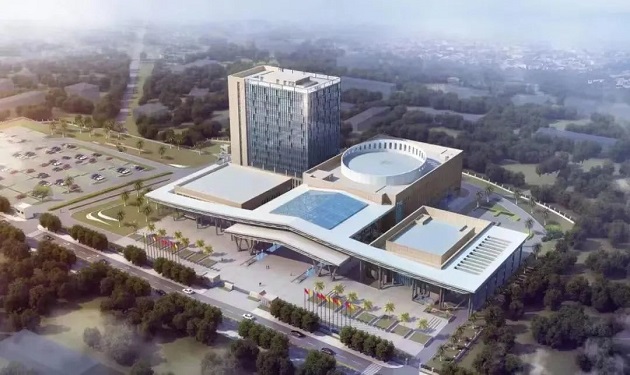 The China-aided Cameroon's National Assembly Building Project is an important project of "Ten Cooperation Plans" proposed by President Xi Jinping to Africa and implemented by the Chinese government, being of great significance. Beijing Urban Construction Group (BUCG) will give full play to its advantages in large-scale public projects construction, relevant patent technology and resource allocation in Africa in the field and complete contract performance in time and with high quality. In addition, BUCG will inherit the craftsmanship spirit and build an international brand to spread Chinese culture, fulfill my own social responsibility and benefit all African people.