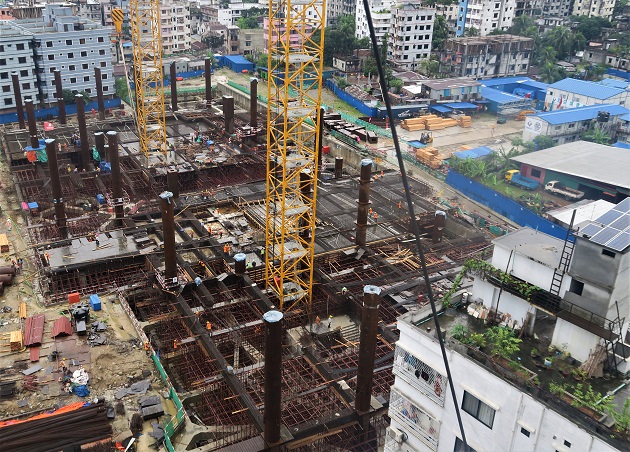 At 16:30 local time, October 26, 2019, the foundation stone laying ceremony of the new campus project of Bangladesh BRAC University was held, which marked the Bangladesh BRAC University's new campus project ran out of "Plus Minus Zero", has entered a new stage of construction. The founder of BRAC, Fazle Hasan Abed and other high leaders of commission, the BRAC University President, Zhang Huacheng and project staff a total of more than 200 people attended the ceremony.
The new campus project of BRAC University is located in the center of Dhaka, the capital of Bangladesh. It is the first project of BUCG in Bangladesh. It will become a landmark in Dhaka after completing. At present, the construction of the project structure has reached the ground floor, and the removal of the third internal support has been basically completed. The safety problems of the ground connection wall and deep foundation pit that had troubled the project have been solved, and the project has entered a rapid construction stage. According to local custom, a foundation laying ceremony will be held.
Fazle Hasan Abed, who is the founder of BRAC, accompanied by President, Zhang Huacheng, laid the foundation for the project. At the same time, President, Zhang Huacheng, expressed his hope in his speech that the new campus will cultivate more talents for Bangladesh and even the world.
Wang Liyi, the Project Executive Manager, said that the project will be carefully managed, carefully constructed, strictly in accordance with the contract, high quality to complete the construction of the new campus of BRAC University. At the same time, we will actively fulfill our social responsibilities, build a responsible corporate image of BUCG in Bangladesh, and contribute to the "Belt and Road" initiative, improve the hardware facilities of higher education in Bangladesh, and promote local social and economic development.