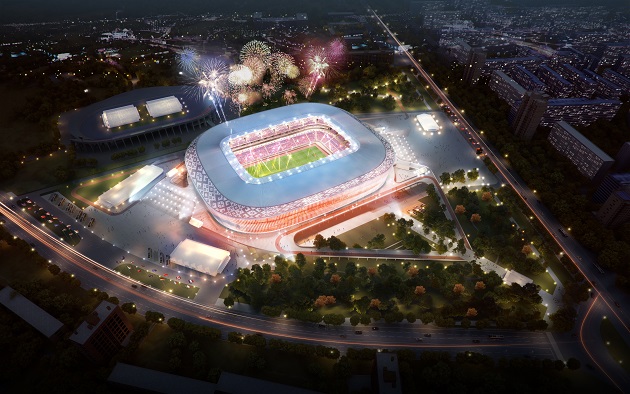 On May 15, BUCG won the bidding for the project of China-aided national football stadium in Belarus, which, as the first project of BUCG International in Belarus market, witnesses the profound friendship between China and Belarus. With the bid price of RMB 692 million, the project is planned to be constructed on June 28, 2020 with the time limit of 40 months.
Located in Minsk, Belarus, the project can satisfy the demand of hosting the corresponding events, such as the World Cup, European Football Championship and UEFA Champions League, after the construction is completed. With the total construction area of 48,000 square meters, the project is divided into two sections, that is, the ground section and the underground section, and can simultaneously accommodate 33,000 audiences.
With complex construction technology and high standard requirement, the project should satisfy the relevant technical requirements and competition standards of FIFA and UEFA. Meanwhile, because the project is located in severe cold region, it puts forward a test for the application of regional adaptability measures, such as snow melting and deicing, energy saving and heat preservation, in construction field.
On May 18, the Agency for International Economic Cooperation (AIECO) of Ministry of Commerce convened the kick-off meeting for the project of China-aided national football stadium in Belarus. Li Xiaobing, the Director of AIECO, Zeng Huacheng, the Deputy Director of AIECO, Chen Daihua, the Secretary of the Party Committee and Chairman of BUCG, Li Daosong, the General Manager of BUCG International attended the meeting. During the meeting, Li Xiaobing expressed his congratulation for BUCH on wining the bidding of the project and put forward the requirement for the construction of project. He said that it is both an honor and a challenge for BUCG to undertake this project, and since the project, as the benchmark of friendship between China and Belarus, has many key points and difficult points and high specification and standard requirements, it hopes that BUCG can overall all difficulties during the construction of project and spare no effort to guarantee the fulfillment of contract.
Chen Daihua firstly expressed his thanks to AIECO for the high degree of trust, and said that BUCG will continue to carry forward the leading spirit as iron army and station an excellent management team to perfectly complete the project with overcome all difficulties, so as to make contributions to the friendship between China and Belarus.